Hi


Opening Day
Every Opening Day I always wear a Baseball tie, even to places where a tie is not expected. That's my small contribution to honoring the greatest sport and our national heritage. What can you do to promote the game we love?
I hate to get emails 3 - 5 times saying the same thing when the author wants to make sure someone didn't miss the earlier message, so what I have done is include a link to an opening day article written by the former commisioner of baseball and an analysis of Miguel Cabrera's swing. Look for those links later in the email.
Having said that, I do want to make sure everyone has seen my gift that was promised in an earlier newsletter.
It's my opening day freebie, a limited time offer to get the Kindle version of my book, How to Make All-Stars for free! (In an exchange for a review of the book). Don't worry if you don't have a Kindle, because now they have free apps for Windows and Mac computers and iPhones and Android phones.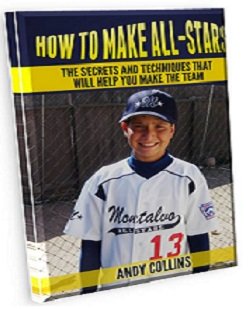 It's Opening Day
What a great day! MLB is officially starting and as such I'm running a 3 day promotion for my book, just click on the picture or go to Amazon to get it.

But hurry, the promotion goes off on Tuesday and that's no fooling. If you go there on Wednesday if will be back up to the full retail price.

If you you'd like the paperback version so you can mark it up and take good notes on your progress it's not free, but it is available for $1 off, but I'm not sure for how long.

Please feel free to forward this email on to whoever you know that might benefit from striving to make all-stars as the free promotion is for anyone, you just have the benefit of hearing about it first.
Analysis of Miguel Cabrera as a Hitter
I haven't forgotten you that might not be associated with youth baseball as analyzing the best hitter in the MLB can also help girls playing in fastpitch softball leagues and for men and women playing slo-pitch, as well as youth baseball players

It might seem to be an odd place to find it but this was an article from the Wall St. Journal.

See what this reporters take was on the Miguel Cabrera swing.
Great Article About the First Day of Baseball
There's a great resource I belong to called CheckSwing.com that's like a facebook for baseball coaches and they found this article that really expresses the sentiments of so many of us. It was written by A. Bart Giamatti, the former commissioner of MLB. Here's his article about opening day.
Please Help Me On Twitter
You can connect with me on Twitter @CoachAndy. Just go to twitter.com and search on CoachAndy and you should find me pretty easily.

If you could tweet or RT "Free Kindle Book, How to Make All-Stars for Youth Baseball, howtomakeallstars.com #AllStarBook #OpeningDay #Baseball #freekindle" that would help me out a lot and I'd appreciate it.

Thanks.


---
Thanks for reading this hitting newsletter.

Again, if you have any questions or comments you can call me at 805-642-5827 or write to me via e-mail.

To see other hitting tips in past newsletters, go to the past issues of my hitting newsletter page.


---
Welcome to you who are new to my hitting e-zine.

Thanks for reading and talk to you next time.

Coach Andy

6801 Dove St. Ventura, CA 93003

805-642-5827

Coach Andy Collins has been helping players achieve their goals in softball and baseball for over 35 years. He's an advisor to national teams and can help you be a better hitter. He offers free information on his website www.theInternetHittingCoach.com and through free e-mail hitting lessons and has just introduced 4 new videos on teaching fielding, throwing, and running hitting practices along with another hitting video discussing and demonstrating how to hit great with either the rotational or linear hitting methods. https://www.theinternethittingcoach.com/hitting-video.html