Hi


A Gift From Coach Andy
Here's the Gift from Coach Andy that was promised in the last newsletter.
As a faithful subscriber to my list I'm going to give you a limited time offer to get the Kindle version of my book, How to Make All-Stars for free! (In an exchange for a review of the book). Don't worry if you don't have a Kindle, because now they have free apps for Windows and Mac computers and iPhones and Android phones.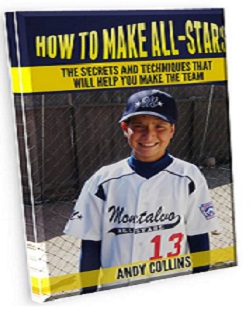 It's Opening Day
What a great day! MLB is officially starting and as such I'm running a 3 day promotion for my book, just click on the picture or go to Amazon to get it.

But hurry, the promotion goes off on Tuesday and that's no fooling. If you go there on Wednesday if will be back up to the full retail price.

If you you'd like the paperback version so you can mark it up and take good notes on your progress it's not free, but it is available for $1 off, but I'm not sure for how long.

Please feel free to forward this email on to whoever you know that might benefit from striving to make all-stars as the free promotion is for anyone, you just have the benefit of hearing about it first.
For the Softballers and Hitters
I haven't forgotten you and I have a gift for you as well.

The book could help girls playing in fastpitch softball leagues where they pick all-star teams, but they might not identify with the pictures of the boys on the team. (I will be coming out with a girls fastpitch version in the summertime).

And for men and women playing slo-pitch, I've included you.

If you haven't downloaded it already, I recorded an audio that you can download to your phone, mp3 player, whatever, and listen while you're taking your swings so as to remind you of what you're trying to accomplish.

Go here to get the audio where I coach you through 50 swings.
Let's Blowup Twitter
You can connect we me on Twitter @CoachAndy. Just go to twitter.com and search on CoachAndy and you should find me pretty easily.

If you could tweet or RT "Free Kindle Book, How to Make All-Stars for Youth Baseball, howtomakeallstars.com #AllStarBook #OpeningDay #Baseball" that would help me out a lot and I'd appreciate it.

Thanks.


---
Thanks for reading this hitting newsletter.

Again, if you have any questions or comments you can call me at 805-642-5827 or write to me via e-mail.

To see other hitting tips in past newsletters, go to the past issues of my hitting newsletter page.


---
Welcome to you who are new to my hitting e-zine.

Thanks for reading and talk to you next time.

Coach Andy

6801 Dove St. Ventura, CA 93003

805-642-5827

Coach Andy Collins has been helping players achieve their goals in softball and baseball for over 35 years. He's an advisor to national teams and can help you be a better hitter. He offers free information on his website www.theInternetHittingCoach.com and through free e-mail hitting lessons and has just introduced 4 new videos on teaching fielding, throwing, and running hitting practices along with another hitting video discussing and demonstrating how to hit great with either the rotational or linear hitting methods. https://www.theinternethittingcoach.com/hitting-video.html