If You Want To Be Hitting For Power
Learn the secrets of hitting for power from one of the premier baseball hitting coaches in the country, Tony Dello, minor league hitting instructor with the Arizona Diamondbacks.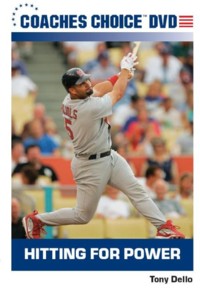 Coach Dello has been a minor league hitting instructor with the Diamondback's organization since 1999. In 2006 he served as the hitting coach for the Tennessee Smokies, a double A affiliate.

In his accomplished career, he has conducted camps and clinics throughout the United States. He has also been a writer for Collegieate Baseball and Baseball Parent magazines.

Previously, Tony served as director of youth instruction for Arizona State University, under head coach Pat Murphy.

Before beginning his professional coaching career, Tony completed eight successful years coaching at the collegiate level, working with teams that led their leagues in hitting at Norther Illinois University and James Madison University.

Hitting for Power teaches new training concepts to add power and distance to any swing. The DVD includes game-tested drills for warming up, balance timing, and live batting practice. The DVD also features demonstrations of proper hitting technique and drill execution for indoor and outdoor practices.

The drills that have allowed Tony's teams to lead the league in hitting and homeruns are explained and shown in detail.

You'll find yourself hitting for power by following these techniques and drills as Coach Dello covers:

plate coverage
grip
athletic position
balance-beam drill
five absolutes to power
warm-up drills
timing drills

This DVD was produced just this year, so get the video today and have your player and team start hitting for power to help them win more games.

To order your Hitting for Power DVD by credit card or electronic check go here now



Only $39.97 (+ $2.90 tax (CA only) + $4 s/h) To pay by check, send your money to Coach Andy Collins, 6801 Dove St., Ventura, Ca, 93003

Order with confidence. I guarantee you'll like this video or your money back. - Coach Andy, the Internet Hitting Coach
Here's an even better Deal!
Save $10
Get all of Coach Dello's coaching knowlege about hitting for power along with my hitting DVD that explains the basics of a sound swing and save $10 in the process!

Get both for only $70. That's $10 off, if you bought each one separately.

This will really step your game up to the next level.

And my guarantee of satisfaction still applies, so order today with confidence.