Jenny Topping - Effective Practice Drills for Catchers
Learn the secrets of catching from Jenny Topping, one of the 2004 Olympic Gold Medal winning team catchers. There were only 2 catchers on this team that dominated the world's best players. In fact, Jenny Topping, led that team in batting average with a .600 batting average in the Olympics.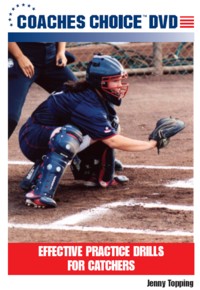 Rarely do you have an opportunity to learn from a lady who's made it to the very top of the game.
"It's Not Every Four Years, It's Every Day. It's who you are" is a quote Topping notes as one to live by.
She teaches her Effective Practice Drills for Catchers showing you the proper fundamentals and techniques that every catcher should know and practice.
In a step-by-step progression format, each fundamental is demonstrated by both a left-handed and a right-handed catcher. Featuring instructional advice and teaching tips that are presented in an easy-to-learn and apply manner, the information is designed for softball catchers at all competitive levels.
Among the topics covered in the video are warming up; throwing techniques; how to strengthen the arm; hand-eye coordination drills; blocking drills; framing; pop flies; pick-offs and throw downs; and tags at the plate.
Jenny Topping has many other credentials that helped her to the top. She's a 3 time All-American, winning the Big West Conference Player of the Year in 3 consecutive years, and just concluded her pro season as a Member of National Pro Fastpitch Akron Racers, who were the NFP Champions. Jenny was a member of the league's All-Star team.
She did this all while fighting the stereotypes against left-handed catchers. Notice the picture on the video, that is not a misprinting. (If you want to be a left handed catcher, this video is a must).
If you want to be a better catcher or just learn the proper and effective drills for catchers, then you need to order this DVD today.
To order your Jenny Topping Effective Practice Drills for Catchers DVD by credit card or electronic check go here now


Only $39.97 (+ $2.90 tax (CA only) + $4.05 s/h)
To pay by check, send your money to Coach Andy Collins, 6801 Dove St., Ventura, Ca, 93003
Order with confidence. I guarantee you'll like this video or your money back. - Coach Andy, the Internet Hitting Coach
Here's an even better Deal!
Save $20
Get a great set of catching knowledge and save $20 in the process!
Here are 2 other DVD's.

Catching Mechanics

Catching Drills

Get all three for only $100. That's $20 off, if you bought each one separately.
This will really step your game up to the next level.
And my guarantee of satisfaction still applies, so order today with confidence.