Mike Epstein on Hitting Book
This book by Mike Epstein on Hitting is this former Major Leaguer's teaching on what he knows about hitting as he experienced it and learned it at the feet of one of the greatest hitters of all time, Ted Williams.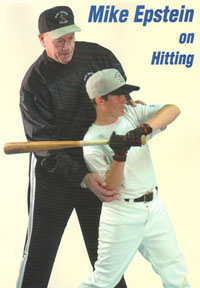 When I heard of rotational hitting I was directed to learn everything I could about it, which I was willing to do. The name that kept coming up over and over again was Mike Epstein. So the book I purchased was this one - Mike Epstein on Hitting.

I learned all about his findings where he challenged hitters that what they were being taught didn't match what you see on Baseball Tonight when they showed the "Touch 'em All" segment.

I've been seeing interest really starting to increase in the rotational hitting method and this is a great resource to add to your collection so you can help yourself, your child, and/or players hit with this method.
Do you want to do all you can to help your players hit better and stronger?
The Mike Epstein on Hitting Book is the perfect way to have Mike Epstein himself teach you what he's found out and introduce you, your players, even your school, organization, or league to a whole new way to think about hitting a baseball or for that matter hitting a fastpitch softball.
Get it today, start learning, and start having your hitters hit the Mike Epstein on Hitting way.


To order your Mike Epstein on Hitting Book by credit card or electronic check go here now
Only $24.95
(+ $1.80 tax (CA only) + $4 s/h)

To pay by check, send your money to Coach Andy Collins, 6801 Dove St., Ventura, Ca, 93003

Order with confidence. I guarantee you'll like this book or your money back. - Coach Andy, the Internet Hitting Coach