Teaching Infield Play to Young Players
Learn the secrets of infield play for young players from one of the top softball coaches in the country.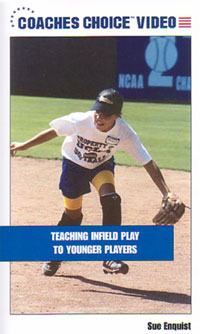 Sue Enquist is the head softball coach at UCLA. A 1980 graduate of UCLA, Enquist has had a long and storied career with her alma mater. As a centerfielder for the Bruins (1975-1978), Enquist had a then record career batting average of .401, while earning honors as UCLA's first softball All-American. From 1980-1988, she served as an assistant softball coach under longtime Bruin mentor, Sharron Backus. She then serd as the Bruins co-head coach with Backus from 1989-1996. In 1997, Enquist assumed the role of sole head coach for the Bruins.
During her extraordinary tenure on the bruins coaching staff, UCLA has played in a record 18 championship games winning 10 titles -- including the 2003 and 2004 championships. (Last year and in 2002 they were runners-up).
Learn as Coach Enquist provides a detailed overview of how youth softball coaches can teach the fundamentals and techniques involved in sound infield play to their players.
In an easy-to-understand and apply manner, UCLA's Sue Enquist addresses the key teaching points for developing the essential components of infield play for youth softball, including warming up, throwing mechanics, pre-practice fundamentals, fielding mechanics, transitioning to throw, ground ball series, over the shoulder, position play, and split infield work.
This video tape was produced in 2003 (sorry, no DVD at this time) right after winning the championship, so get the video today and teach your young player and team proper infield play to help them enjoy the game more and win more games.
To order your Infield Play for Younger Players Video Tape by credit card or electronic check go here now


Only $39.97 (+ $2.90 tax (CA only) + $4 s/h) To pay by check, send your money to Coach Andy Collins, 6801 Dove St., Ventura, Ca, 93003
Order with confidence. I guarantee you'll like this video or your money back. - Coach Andy, the Internet Hitting Coach
Here's an even better Deal!
Save $20
Get all of Coach Enquist's coaching knowlege about helping young players learn the game of softball and save $20 in the process!
She has created 2 other tapes's on coaching youth players.

Bunting and Hitting Progressions for Younger Players

Baserunning for Younger Players

Get all three for only $100. That's $20 off, if you bought each one separately.
This will really step your game up to the next level.
And my guarantee of satisfaction still applies, so order today with confidence.