Agressive Baserunning
Learn the secrets of agressive baserunning from one of the top baseball coaches in the country.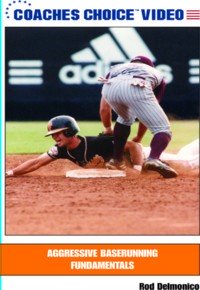 Rod Delmonico is in his 17th season as the head baseball coach of the University of Tennessee. Last year on March 11, 2005 he won his 600th career game as UT's head coach.
Aggressive Baserunning Fundamentals explains how a team can gain a "winning edge" by being aggressive on the basepaths.
The video reviews how and why making things happen in the basepaths puts pressure on the defense. The video also details the key principles and techniques involved in running the bases effectively.
These are the same techniques that Delmonico has used to achieve these team stats: 634-347 (.643) in 16 years at Tennessee; Three College World Series appearances (1995, 2001, 2005); Eight NCAA Regional appearances (1993, 1994, 1995, 1996, 1997, 2001, 2004, 2005); Five NCAA Regional finals (1994, 1995, 1996, 2001, 2005); Two Southeastern Conference Titles (1994, 1995); Four SEC Eastern Division Titles (1993, 1994, 1995, 1997); Nine 40-win seasons; Two 50-win seasons;
This DVD was produced this last year so get the video today and have your player and team start their agressive baserunning to help them win more games.
To order your Agressive Baserunning Fundamentals DVD by credit card or electronic check go here now
Only $39.97 (+ $2.90 tax (CA only) + $4 s/h)
To pay by check, send your money to Coach Andy Collins, 6801 Dove St., Ventura, Ca, 93003
Order with confidence. I guarantee you'll like this video or your money back. - Coach Andy, the Internet Hitting Coach
Here's an even better Deal!
Save $20
Get all of Coach Delmonico's coaching knowlege about the offense and save $20 in the process!
He has created 2 other DVD's.

Hitting Fundamentals

Hitting Drills from A - Z

Get all three for only $100. That's $20 off, if you bought each one separately.
This will really step your game up to the next level.
And my guarantee of satisfaction still applies, so order today with confidence.