Hi


Are Swings the Same?
The question always comes up, are swings the same in baseball and softball and if you're talking about fastpitch softball, the answer is yes. Slow motion video shows and almost all high level coaches agree that they are.
If you were on my Internet Hitting Clinic this past year you heard from Doug Latta, who coaches major leaguers and pro softball players, Mike Candrea, the winningest coach in NCAA softball history, Alexa Peterson, NPF player, Jason Ochart, Phillies hitting coordinator and Tony Borrego, Jr. of Maximumbatspeed.com who all said they were the same, so if your coach is telling you something different, I'd find another coach or ignore what they're telling you and get some lessons from the HittingVault
Can We Learn from Slow Pitch Hitting?
But what about Slow Pitch? You may see videos of those guys hitting a softball 300-400 feet without the aid of a 80 - 90 mph pitch coming in, which helps drive the ball. Are they same?

Last weekend I went to a clinic put on by Steve Imlay, a softball Hall of Famer, who consistently hits 300 foot home runs and bats .800 in super major tournaments. He puts on clinics as SLiAcademy.com. He described the differences since a slo-pitch player has to generate the power that is lacking from the speed of the pitch coming in. There's more hip drive and more wrist snap into the ball than in the traditional swing but the other elements are pretty much the same.

One thing he advised people to do and I also encourage my students to do is to write down what they're learning and track their progress.

I like the idea so much that I wrote two journals to do just that. One for baseball and one for softball. Here's my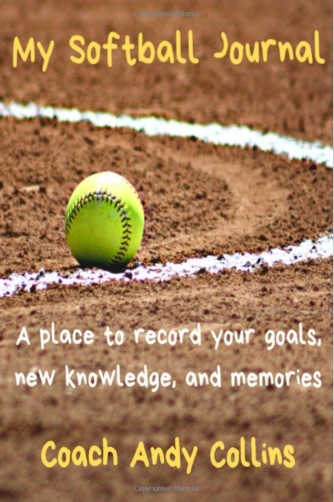 SoftballJournal .

Steve Liked it so much that he wants to get one for everyone of his students and ordered 50 of them right away.

There's still time to order one for Christmas and it's on Amazon Prime so you get free shipping and next or 2 day shipping if you have Prime. https://www.amazon.com/My-Softball-Journal-training-memories/dp/1707077037/

And it fits in a stocking :) Only $7.99 each.

Here's the one for baseball https://www.amazon.com/My-Baseball-Journal-notebook-knowledge/dp/1671367073/
Best Gift Idea
I don't know if you've heard of the MaxBP or not, but what they offer is a machine that throws Batting Practice with golf ball whiffles that throws pitches that will emulate pitches anywhere from 35 - 90 mph depending where you place the machine and it throws curves as well. And because they are plastic balls they don't travel too far when hit, so you can get hundreds of swings a day in a garage, basement, or backyard or use the battery pack and take it to the park.

Sounds great doesn't it?

Right now they have it for 20% off, but that make it $408 and you'd still need to get a tri-pod and while hitting the small balls with your regular bat will help you concentrate and getting a pitch every 5-8 seconds will help you get plenty of practice swings, but what if you could hit with a bat that's the size of a broom stick (and had the same weight of your regular bat), that would really help you.

And ...

What if I could tell you you could get a portable pitching machine with all of those same features, the tri-pod, the bat I mentioned, and a bonus mini web glove to get even more eye hand coordination practice for fielding as well as hitting for only $219 plus tax and shipping and handling?

Check out MyPersonalPitcherstory here.

I personally don't know anyone who used it on a regular basis who didn't make their high school team.
---
Talk to you next time
Coach Andy

6801 Dove St.Ventura, CA 93003

805-642-5827