Hi


Get a Low Priced Pitching Machine
Get a low priced pitching machine to help your baseball hitting or your fastpitch hitting.
And to make it even better for today only you can save $100.
How's that for saying the price is going up tomorrow by $100, but you can still get it at the lower price today?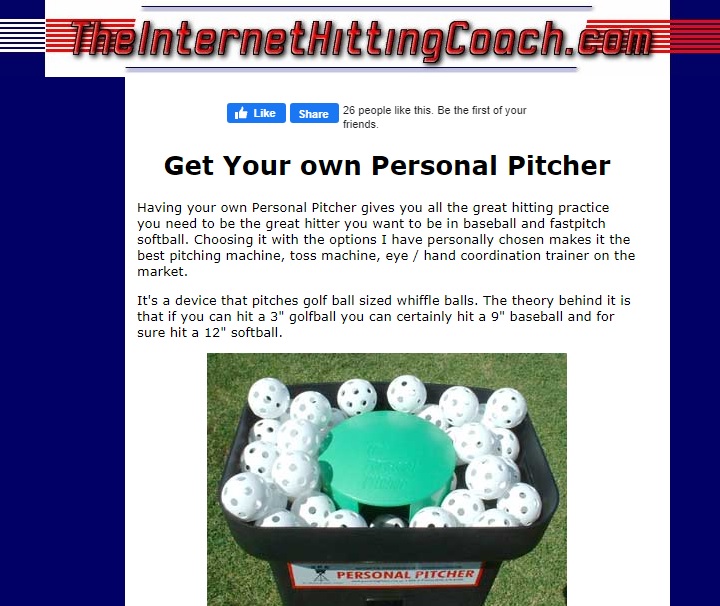 That's correct a pitching machine that pitches golf ball size whiffles.

It's the same machine my cousin's kid used to make it to his high school team and even onto college ball.

The same machine that the inventor's son used to make his dream of making the JV baseball team and he didn't stop there, he made it to college, the minors and even 5 years in the bigs.

I've heard a lot of stories of kids using this machine and end up making their high school team.

So you see an investment of only $350 to get the machine, a few dozen balls, and a bat the size of a broom handle that helps you really focus while you're hitting.

But before the price goes up on Sunday, August 15, 2021 there's still a chance to get the whole bundle for only $249. MyPersonalPitcherstory
Speaking of Making the High School Team.
On my YouTube channel, I'm going to be putting a couple of videos about the process of excelling at you or your child's high school baseball or softball tryout.

So subscribe to my channel and ring the bell for notifications to learn when they or other content comes out. My YouTube Channel

---
Talk to you next time
Coach Andy

6801 Dove St.Ventura, CA 93003

805-642-5827

Author of the books How to Make All Stars: the secrets and techniques that will help you make the team

My Baseball Journal: A notebook to record your goals, new knowledge, and memories

My Softball Journal: A notebook to record your goals, new knowledge, and memories

and videos Dynamic Hitting Practice for Youth Baseball

Dynamic Hitting Practice for Youth Softball

Fielding and Throwing Skills and Drills for Youth Baseball