Hi


Hitting Training
How do you get hitting training during this time when you can't be at the ball field or be in contact with coaches?
Well there's YouTube, but are you running into different ideas as to what's the best and what should you avoid?
At the bottom of this email you might see I have 4 videos listed that you could get, but they are really designed for coaches running practices, so while it might be good information for you to have and give you something to watch during this dead time, but what about hitting?
Well I'm like you, what's correct? Who should you trust when it comes to hitting information?
So I created 9 DVD's by interviewing some of the best experts in the country. These are people that the pros get their information from like
former Olympic Coach and winningest coach in NCAA history, Mike Candrea,
pro player Alexa Peterson on the softball side and
the Phillies hitting coordinator, Jason Ochart, who got the job because of his job as hitting director of Driveline Baseball, where many pro players go in the winter to experience their data driven approach,
Doug Latta, who Hunter Pence went to last winter and Justin Turner, Marlon Byrd, and many others and is credited with launching the flyball revolution and the surge in home runs,
Other DVD's cover nutrition, strength & conditioning from a 10 year strength and conditioning coach for Team Canada,
vision training from a vision consultant to the New York Yankees for 30 years,
mental training from a sports psychologist to the pros,
video analysis of elite level swings of MLB players and some of the best college softball players
and I do one on bats and training equipment.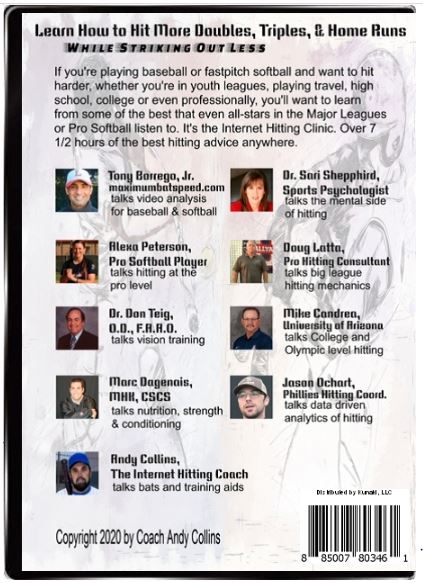 You Are Special
How would you like to hear what all 9 of us had to say?

You'd know you'd be getting the best information.

No more guessing.

Since you're on my list, you are the first to hear about it. I haven't even started promoting this and as such I want to give you a sweetheart deal.

I'm talking about 9 DVD's worth of solid hitting information from all perspectives, physical, mental, how to information.

The videos I did before were about 30 - 40 minutes long and ran $40.

That would be $360.

But not for you, not for anybody, I'm experimenting with marketing them for $12.95 a piece.

So if you wanted all of them, that would be $117

But I was able to get all 7 1/2 hours of information onto 1 DVD that I'm selling for $67. That's 57% of the individual discs.

BUT WAIT ... For the next 4 days, you on my list can get it for 1/2 off of the already low price - $33.50 HalfOffSalesPage
Video Hitting Lessons Online
Another way to get hitting training during this time, if your child, grandchild, or player that you coach is wanting that, is to signup for my Outschool classes on hitting. I have something for everyone. Beginning hitting for 6-8 year olds, ongoing hitting analysis for 9 - 12 year olds, and advanced topics taken from my 9 panel of experts above for the 13 - 18 year olds. (This is assuming the older ones have been playing quite a bit.) Here's my profile listing on outschool. OutschoolProfile
Don't Forget About This:
I still think what I told you about last time about a pitching machine that was less than $250 and it can take up as little as a 12' by 12' space.

The machine throws golf ball whiffles which will help you focus better and the balls can't fly very far or damage too much.

And if you're really up for a challenge use the gro-bat (a 1" bat that's the same weight as your game bat) to hit those golf ball sized balls.

Read all about it in MyPersonalPitcherstory here.

I told you last time how I personally didn't know anyone who used it on a regular basis who didn't make their high school team and how it was $200 cheaper than a leading competitive product.

I really recommend this product and it's perfect while we're sitting out for a while.
---
So that's it for now. I will have more information on social media and in upcoming emails.


Follow me on Facebook

and Twitter

Coach Andy

6801 Dove St. Ventura, CA 93003

805-642-5827

Author of the books How to Make All Stars: the secrets and techniques that will help you make the team

My Baseball Journal: A notebook to record your goals, new knowledge, and memories

My Softball Journal: A notebook to record your goals, new knowledge, and memories

and videos Dynamic Hitting Practice for Youth Baseball

Dynamic Hitting Practice for Youth Softball

Fielding and Throwing Skills and Drills for Youth Baseball