Hi


Hitting Gifts for the hitter in your life
As promised, the e-mail announcing what I'd want to have people give my hitters (or if I didn't have them myself what I as a coach would like).

I'm sure everyone is expecting me to say my video.

While I'd be more than happy for you to do that, I'll try to be less self serving at this season. :)

I do feel that giving your hitter proper instruction is a great gift though. Whether it's a video, a book, a camp, a clinic, or lessons, that really is a good gift.

Most people think of bats as a good gift, but then what size, what brand, etc. comes into play.

Here's an article I wrote about selecting a bat a couple of years back.

But the number one gift I'm recommending for all my students is the Personal Pitcher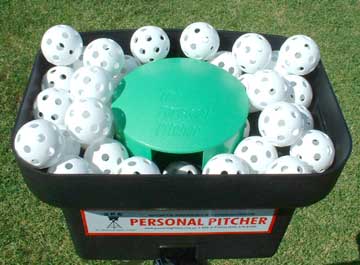 Even though I sell these as well, I don't know there's enough time to have you order through me, so I'm directing you to him directly, that's how strongly I feel about the product.

If you don't need it by Christmas or Hanukkah, then get back to me, otherwise take advantage of a pitching machine in your own yard, garage, or basement that throws golf ball whiffles that correspond to real reaction times of the most demanding hitters to the beginners. It's battery powered and holds 48 balls so it doesn't need someone else to pitch to them.
Fun Items
A fun place to go is the GoCollect network, where they have over 40 items for the baseball/softball fan among there over 70,000 items.

I've saved you the trouble by giving you the link that directly brings up the baseball gifts.

I could keep going, but I better get this to you so you have enough time. I was assured by the GoCollect folks you still have almost a week to get this out in time.

To all of you that celebrate Christmas, as I do, "Merry Christmas". To all of the Jewish readers, "Happy Hanukkah". And to any that celebrate neither, "Have a great New Year".

See you next year with lots more information about hitting. I have lots planned, we'll go over bunting, conditioning, slap hitting, mental aspects, and much more.

If you want to get an advanced head start on any items feel free to get your questions to me via e-mail.
For other hitting learning, go to the past issues of my hitting newsletter page.


---
Welcome to you who are new to my hitting e-zine.

Thanks for reading and talk to you next time.

Coach Andy

6801 Dove St. Ventura, CA 93003

805-642-5827

Coach Andy Collins has been helping players achieve their goals in softball and baseball for over 30 years. He's an advisor to national teams and can help you be a better hitter. He offers free information on his website www.theInternetHittingCoach.com and through free e-mail hitting lessons.